As U.S. President George W. Bush prepares to leave one of the most controversial presidencies in history, he might consider that his legacy begins at least better than that of his relatives who participated in 1692 with the Salem Witch Trials, according to a trials researcher.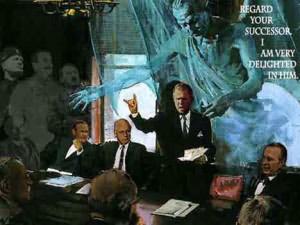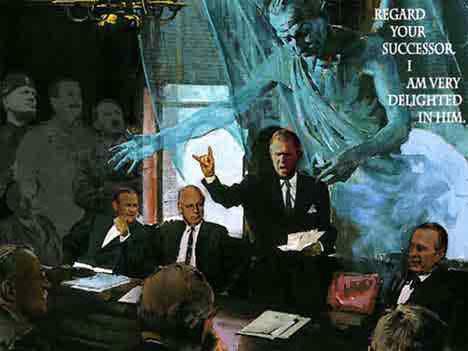 David Nelson, the owner of the family-history group Bloodlines of Salem, said on October 3 that the president is an 8th great-grandson of Mary Parker who was hanged during the trials. But, his trials relationship with numerous other participants surprised Nelson more so.
"Because so many trials participants lived in the relatively unpopulated parts of the Salem area, their descendants are often surprised to learn that they're related to several participants who might have opposed each other during the trials, but whose families married later," Nelson said. "But, the president is the most related descendant I've researched. His ancestors and relatives were deeply involved in the trials from accusation to execution."
The president is related to as many as 217 of the almost 1,500 trials participants including jurors, marshals and constables who accused others, or were accused, of witchcraft. He and Nelson are cousins, and share several trials relatives. The trials resulted in the deaths of 20 defendants.
Since becoming president in 2001, writers have reported about Bush's occult history including his secret-society memberships with the 176-year-old Skull and Bones fraternity, the 136-year-old Bohemian Club and Grove fraternity, and the 54-year-old Bilderberg Group conference. Photographers have published images of him showing the "Horned Hand" sign of Satanic greeting.
Nelson's report is the first time that the president's trials relationships have been published, but similarly horrific family-history facts about the president were published in the last five years:

Nelson said also that U.S. Vice President Cheney is a descendant of Susannah Martin who was hanged during the trials. Evidence of a trials relationship wasn't found for Republican presidential nominee Sen. John McCain or vice-presidential nominee Gov. Sarah Palin, or Democratic presidential nominee Sen. Barack Obama or vice-presidential nominee Sen. Joseph Biden.
Nelson reported in 2007 his research of "Harry Potter" actor Tom Felton's trials relationship with several participants.
Bloodlines of Salem is the place where visitors share ideas and information about the Salem Witch Trials of 1692, its participants and their families. Many of us have researched and proved our descents from one or more of the participants. The trials unfolded more than three centuries ago and continue to figure prominently in the studies of history, law and religion. As amateur and professional Salemologists, however, our study of the trials isn't limited to our lineages. While the facts about our infamous ancestors might be the focus of our work, it's the celebration of their memories and mysteries that continue to fascinate new generations of their families and the public. We welcome you to explore with us.
Donate and Make a Difference
War Is Crime is an independent non-commercial website. It is not addressed to "the masses" but to the individuals, to you personally. Please consider sending a donation to help us keep it running. Your generous support makes the world a better place!
Pedigree of Salem Witch Mary Parker to George W. Bush

(8GGP) Mary AYER (=Fellows) (=Parker) (1634 or 1637-22 Sep 1692)
+ William FELLOWS (22 Oct 1609-29 Nov 1676)
|
(7GGP) Ephraim FELLOWS (Mar 1641-23 Feb 1671 or aft. 1710 or bef. 1713)
+ Anna or Anne CROSS (=Marshall) (=Fellows) (abt. 1644 or abt. 1651-23
Feb 1671 or 1710)
|
(6GGP) Elizabeth FELLOWS (=Stephens or Stevens) (14 Sep 1685-aft. 1741)
+ Henry STEPHENS or STEVENS (20 Nov 1681-1726 or aft. 1749/50)
|
(5GGP) Lucy STEPHENS or STEVENS (=Smith) (abt. 1717-4 May 1806)
+ Ephraim SMITH (5 or 6 Oct 1704-24 Mar 1774)
|
(4GGP) Dr. Sanford SMITH (27 Feb 1760-15 Jun 1815)
+ Priscilla WHIPPLE or WHIPPO (=Smith) (abt. 1763-26 Aug 1838)
|
(3GGP) Harriet SMITH (=Bush) (12 May 1800-21 Jun 1867 or 1869)
+ Obadiah Newcomb BUSH (28 Jan 1797-1851)
|
(2GGP) The Rev. James Smith BUSH Esq. (15 Jun 1825-11 Nov 1889)
+ Harriet Eleanor FAY (=Bush) (29 Oct 1829-27 Feb 1924)
|
(GGP) Samuel Prescott BUSH (4 Oct 1863-8 Feb 1948)
+ Florence "Flora" SHELDON (=Bush) (17 Mar 1872-4 Sep 1920)
|
(GP) U.S. Sen. Prescott Sheldon BUSH (15 May 1895-8 Oct 1972)
+ Dorothy Wear WALKER (=Bush) (1 Jul 1901-19 Nov 1992)
|
(P) U.S. President George Herbert Walker "Walker" "Poppy" BUSH (12 Jun
1924-Living)
+ U.S. First Lady Barbara PIERCE (=Bush) (8 Jun 1925-Living)
|
(S) U.S. President George Walker "W" BUSH (6 Jul 1946-Living)