When Bob Dylan said he "sold his soul to the devil," what did he mean? Miles Mathis suggests Dylan betrayed his artistic integrity & audience in return for fame and fortune. The Illuminati can make anyone famous. It's called hype. They choose people who will advance their satanic agenda, i.e. "social change"…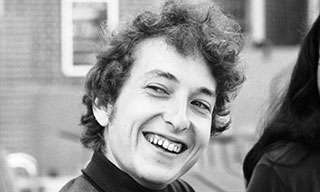 Nobel Literature Prize Winner, 2016.
In
a recent article
, Miles Mathis presents a compelling argument that Bob Dylan is a phoney. He believes Dylan did not write his own songs and while Dylan's stage performances were not devoid of talent, he is not whom we believe him to be.
Dylan, whose real name is Robert Zimmerman, was born into a wealthy Jewish family in Duluth, Minnesota who owned a chain of movie theatres in the small town of Hibbing, MN. They were already in the 'deception' business. According to Mathis, Hibbing has produced a number of dubious characters that include Vincent Bugliosi, Bruce Carlson and Gus Hall to name three. Gus Hall is the former leader of the US Communist Party and probably an Intelligence Services asset. Bruce Carlson is Director of the National Reconnaissance Office (an intelligence agency) and a leader of the Mormon Church, believed part of the Elite. Vincent Bugliosi was the attorney who 'prosecuted' Charles Manson, allegedly another one of the long list of 'Laurel Canyon' assets.
In 1961, Dylan, 20, was "made" by a favorable New York Times review of his short set before 10 people at 'Gerde's Folk City.' He had been performing for only six months, and had no original material.
The review was written by another Jew, Robert Shelton (Robert Shapiro.) Charlie Rothschild was the booking agent for 'Gerde's' at the time.
MK-ULTRA: "The Times they are a Changin'"
Intelligence was running many black ops and using the music industry as cover in the 1960s. Some of them have since been partially declassified, such as Operation Mockingbird, MK-ULTRA and others.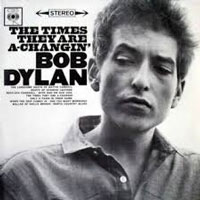 Mathis believes that there was an even larger operation called, 'Operation Rolling Stone' designed to promote extreme change in all forms.
Because humans are naturally resistant to change, Mathis contends, change had to be manufactured and constantly sold. Mathis points to the constant use of the 'Rolling Stone' title such as Dylan's famous song, the band, The Rolling Stones, and also the magazine, Rolling Stone.
Mathis believes that the 'Rolling Stone' meme was a creation of Intelligence agencies as part of their social engineering. In the " Protocols of the Elders of Zion," the author says three times, Our Countersign is "Force and Make-believe"(Protocol 1).
"Make-believe" is the Illuminati's "Magick." Magick is simply deceit or lying which is easy when you own the mass media and educators. The evil magician Aleister Crowley defined Magick as "the science and act of causing change to occur in conformity with will… any willed change in ourselves or in our environment is Magick."
The CIA had taken over all media by 1961. This may explain why Columbia was so keen to sign the 20-year-old Dylan based on virtually nothing. So arguably, Dylan's entire career was pre-planned.
Columbia had not heard him playing any of his original songs, because he had none at this time. He had only two original compositions on his first album, and that was not released until 1962.
Plagiarism?
In 1963, Newsweek accused Dylan of plagiarism, suggesting that 'Blowin' in the Wind' had been 'acquired' from a high school student. As Mathis points out, if Dylan had written the song, Columbia would have sued Newsweek as soon as the story appeared. If Dylan had not written what is his most famous song, what does this say about him as a songwriter?
In 1965 Dylan was booed off the stage at the Newport Folk Festival allegedly for going 'electric guitar.' Mathis believes that 'real' folk fans knew that he was a fake, but by 1969, the infiltration and co-option of anti-war movement was complete so Dylan was no longer needed. He was therefore abandoned.
Mathis also posits that after Watergate, Dylan was brought back to Columbia in 1974 as part of the grand misdirection so that the American public would not notice that the CIA had just finalized a takeover of the government.
Mathis thinks fellow Jewish agent Leonard Cohen was Dylan's ghost writer. Cohen's record label was also Columbia. Furthermore it would also explain what Joni Mitchell said in 2010, referring to Dylan: "He's a plagiarist, and his name and voice are fake. Everything about Bob is a deception. We are like night and day, he and I."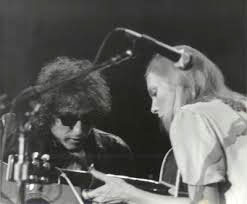 Joni Mitchell dated Cohen for a while, so she should know. She even had an opportunity to change her view, but refused.
And as Mathis points out, why did Dylan or his record label not sue Mitchell for defamation? A claim of plagiarism is the most serious accusation that could be directed at a performer.
As a 'former' fan of Dylan, Mathis concludes, "…this is no easier for me than for you… It hurts. Talent and real art have been rare enough without losing what little we had to these government disinfo programs… Even more recently, Dylan has been doing Chrysler commercials… It is like watching Gandhi as the spokesman for Monsanto, or Martin Luther King schlepping pharmaceuticals for Pfizer."
---
HENRY MAKOW's note: Bob Dylan's eldest son, Jesse is a member of the Council on Foreign Relations. (Thanks Deanna.)
---
WAR IS CRIME's note: It seems like John Lennon had something to say on the subject:
"I don't believe in Zimmerman…"
(John Lennon, "God". John Lennon / Plastic Ono Band, 1970).
"Like a rolling stone,
Like a rolling stone…
Like the FBI, and the CIA,
And the BBC, BB King,
And Doris Day,
Matt Busby
Dig it, dig it, dig it…"
(John Lennon, "Dig It". The Beatles' Let It Be album, 1970).
---
UK-based author John Hamer has written numerous short articles and several books including the best-seller, 'The Falsification of History' and 'RMS Olympic' and 'Titanic's Last Secret'.