The complete global conspiracy collection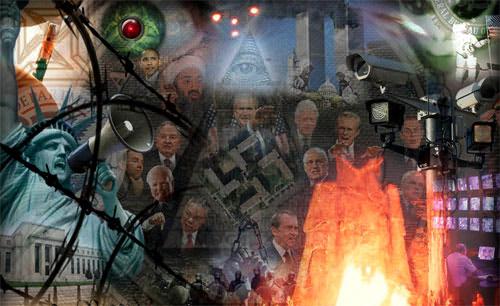 Over the past several weeks at LRC I have written various articles and blogs touching upon my favorite area of commentary: that of power elite analysis and the hidden history related to this subject.
These topics have included Watergate, the Bush dynasty, the 1980 October Surprise, and the 1980s Vatican Banking scandal.
I have received quite a number of enthusiastic responses from readers seeking more information on these concerns. It seems our LRC audience loves stuff which "names names," and details chapter and verse how the power elite covertly operates in ripping them off by bamboozling them.
Accordingly they have asked for book titles and references with which they can further pursue exploring power elite analysis. So here are a dozen principal books which I particularly recommend one starts with which I have found extremely insightful over the past four decades.
Let's begin at the beginning, the beginning of the American Republic.
Two books published contemporaneously in the early 1930s must be at the top of my reading list. They are Albert Jay Nock's Our Enemy, The State; and John McConaughy' Establishment Studies
Hidden History – Where Organized Crime and Government Meet
Government Is the Enemy of Civilization
Coup d'état and Assassination: Business as Usual
Court Historians – Servile Scribes of State Power
How The U. S. Government Created America's Drug Problem
Theological Canon of the Welfare-Warfare State
Conservatism: The CIA's Phony Movement
Dem Bones, Dem Bones, Dem Dry Bones
Politically Incorrect American History
"Old Republican" Opponents of Federal Tyranny
Southern Secession and Revolutionary Self-Determination
Franklin Roosevelt and the New Deal
"Onward Armchair Soldiers" – Neocon War Against the World
Knowledge is power.
Empower yourself by discovering power elite analysis as a crucial tool in understanding your world.
---